Founder and Managing Director

For over two decades Maurice has played a significant role in assisting hundreds of life science companies with senior-level executive search projects, creating success through effective recruitment solutions.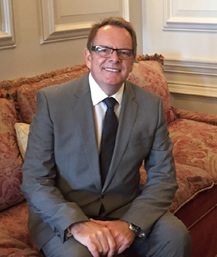 Maurice's counsel is highly valued by his clients in terms of business experience, industry knowledge and organisational development expertise.
His knowledge of job functions, shaping candidate profiles with particular sensitivity around cultural fit and benchmarking the position against industry norms, is also cherished. In addition, Maurice has helped companies build senior management teams ensuring balance is aligned to meet the business objectives.
The impact of Maurice's care and attention to detail in the recruitment process leads not only to a successful placement but also career progression for the appointee. Maurice has personally placed hundreds of key people who have added substantial value to their respective businesses, regularly exceeding their employer's expectations. His philosophy of building a close rapport with his clients and ethos of "getting it right first time" often leads to securing repeat business and preferred supplier status.
Maurice specialises in building partnerships with selected clients across the international life science sectors. He operates at senior level and delivers a bespoke personal service, helping to ensure successful assignment outcomes. Being small and flexible we are able to choose carefully who we work with and limit our clients by sector to avoid conflict.
Herring Partners was launched in March 2012, in response to the needs of the market to have a clear focus on senior-level executive search for the life sciences industry with a personal touch. Our main goal is to serve our clients and find them the most suitable people anywhere in the world. Maurice was previously the co-Founder and Managing Director of PiR Group, a company he established in 1990 initially from his dining room at home and then a small office.
Prior to PiR, Maurice was a Sales Director for Willett and Domino Printing Sciences where he had responsibility for the UK business for a range of hi-tech capital equipment used by industry including the pharmaceutical industry. Maurice's earlier technical sales career was spent working with a German packaging machinery company, following a range of management and technical roles within engineering sectors including Aerospace, Defence, Nuclear and Mechanical Handling.
About us